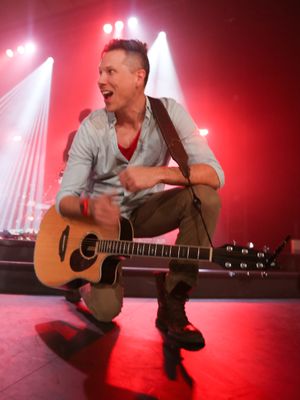 From the heart of every lyric to each soaring chorus, it's the unmistakable fingerprint found on any Aaron David song you hear: inspiration. It's also what drives his passion as a worship leader and consultant in San Antonio and across Texas.  "For me, congregational worship is simply a result of being inspired to glorify our Creator," he says. "With every opportunity, my hope is to remind the listener of the greatness and goodness of a selfless Savior and encourage the natural response, which is a humble heart of immeasurable gratitude."

     Though now most recognizable behind his Breedlove acoustic guitar, Aaron's musical experience actually began on alto saxophone as a section horn player for Dave Bell's Lion of Judah band as they traveled throughout Texas in the late '90s. At the same time, he assisted the Destiny Church youth band on keys and BGVs while teaching himself acoustic guitar in his spare time. Soon after, Aaron received the call to leadership and put his newly learned instrument to use as the youth worship leader.

     In late 2006, he and the family relocated to Houston to follow the call as a worship leader for the youth of Lakewood Church. This led to opportunities to play for other ministries throughout the church, including the main worship services on weekends and Wednesdays in the 17,000-seat auditorium.  During 2009, he also began leading at Woodlands Church in the Woodlands with Kerry Shook, alongside Greg and Janna Long from Avalon.  After two years in Louisiana as a worship pastor, he returned to San Antonio in the summer of 2014 and currently serves as the associate worship minister at Oak Hills Church with Max Lucado.  Aaron continues to write and tour throughout Texas and Louisiana, both as a solo artist and as one half of the romance duo, Two Things One!
"I've known Aaron for years. I've watched him mature into a loving husband, Godly father, and worship leader with incredible talent. I recently experienced his worship at a missions conference I attended. Aaron has the rare gift of leading worshippers into the presence of God. That's a wonderful place to be. I highly recommend Aaron David's worship."
R. Roland Ashby, Jr.
President, Strategic Alliance



"The only thing I can say about Aaron is WOW! He is a true blessing to the body of Christ. He is a gifted worship leader, song writer, and musician. He is a great husband and father and most of all he is sold out for GOD. He is a part of the new breed of worship leaders that God is raising up. He is passionate about making Jesus famous and glorifying GOD. I have trusted Aaron on many occasions to lead us into the presence of God and will continue to call on him to reach this generation. I highly recommend him to anybody who is looking to have their lives rocked by the power of GOD."
Jimn Kyles
Youth Can Lead
Founder and President



"Aaron David did a great job of ministering at our college and young adult service. His team was extremely easy to work with and accommodating to our service structure. He is incredibly talented and gifted to lead people into the presence of God through worship. We will definitely have him back!"
Chandra Lacy
College and Young Adult Ministry
Grace Community Church



"I have been honored to lead worship with an amazing musician and, more importantly, a man of high character and desire to serve God with his talent and his life. He is sold out to the Lord and that is apparent as he leads us all into worship."
Greg Long from "Avalon"
Worship Leader, Woodlands Church



"Worship at Woodlands Church West is an experience that draws people into the presence of our God. Every service leads us to lay our burdens down and lift up our praise. Aaron David has the gifts, talents and abilities to lead people in this awesome journey. His love and passion for Christ is displayed in every note he plays and every song he sings. I highly recommend Aaron as one of the most gifted worship leaders in the country. Leading worship for Aaron is natural and reflexive and very contagious to anyone he is leading. Anyone needing strong, passionate leadership for any worship event, Aaron would be my FIRST call."
Randy Strain
Campus Pastor
Woodlands Church West



"Aaron is a worshipper at his core! Whether he's singing a song about this generation rising up to meet the call of God (Stand Up and Scream) or directing all of his energies on pouring his heart out to Jesus (To Worship You), it all comes from a man that passionately loves God and invites us to experience the same. He leads worship with integrity and honesty and from start to finish, "This Is Me" carries that same anointing."
Michael Mellett
Choir Director/Music Pastor
Lakewood Church/ Houston, TX



"David's music can easily be considered pop rock, with sounds similar to that of Casting Crowns and MercyMe; in fact, much of the time, David's vocals bear a striking resemblance to MercyMe's Bart Millard. You can tell David put his heart and soul into This Is Me; the songs are worshipful, humble and unashamed. He lays himself out there for both the listener and the Lord. David sings of his need for love and redemption, as well as celebrates his victories in Christ. As far as music, the biggest strength is the production, which makes the instrumentation sound clear and full, with not one instrument seeming to overpower any of the others. The arrangement of the songs also works pretty well in conjunction with David's voice and melodies. I'd recommend This Is Me to fans of Christian contemporary music, as well as those who enjoy pop rock in general."
"This is Me" CD review
Scott Fryberger
JesusFreakHideout